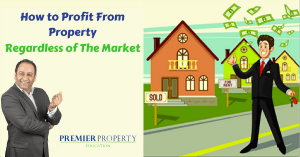 Unless you have been hiding in a cave, it's pretty tough to have missed the changes in the property market over the last ten years and even in the last 2 -3 years.
There's no doubt about it, it's been a rollercoaster.
Here's the thing, That's part of the fun of property investing.
It's cyclical, there are peaks and troughs, values go up and down. Banks, increase or decrease lending seemingly, at will.
The ability to read the market and make sophisticated investment decisions is what separates educated, strategic investors from chancers just wanting to get rich quick.
Reading these articles is a great way to start that education.
The great news is that you can still profit from property regardless of the market!
Here are just a couple of strategies I use in my business every single day.
First up, a buoyant market
So first up, how do you recognise a buoyant market?
There are a few keys:
You'll notice that everyone and their dog decides to get involved in property

Properties don't stay on the market very long and often have closed bidding

Property prices rise substantially

Media becomes negative about landlords affecting 1st-time buyers

Lending is fairly easy to come by

You don't have to persuade people on the concept of property investing, they are pre-sold
Given that property prices are rising dramatically in a market like this, which strategies are the most appropriate?
Often, because the prices of family homes are rising dramatically the rental return isn't enough to cover the lending and provide a decent income.
In these cases 'value add strategies' work really well.
'Value add' strategies are those that work to either strategically add value to the rental income or to the property value itself.
Here are a couple of cash flow strategies:
These strategies specialise in maximising the rental income from properties ensuring that they still cash flow even well and put a substantial amount of money in your pocket when prices are rising.
Multi Lets
Traditionally a single family property would be rented to… You guessed it, a single family.
Times have changed…
With rents skyrocketing and wages not keeping up, more and more people are struggling to find good quality affordable accommodation.
Especially if they have ambitions to eat out, save for a down payment, or do anything besides sit inside counting the pennies you have left after rent and bills.
Shared properties are changing that…
…. In a shared property you may have 4 or more people living in a single family home. They each have private bedrooms and in some cases bathrooms, however they share communal facilities such as living rooms and kitchens.
Carried out well this strategy is a huge win for everyone involved.
Property Owners: While the rental income from each tenant is lower, combined it generally doubles the gross income. E.g Single family rental income: £1200 per month, Four sharers paying £600 per month = £2400. There are different costs for the landlord, but in our experience you still end up with a considerably higher NET income per property. If a family get into financial difficulty, you receive no rent. If one of the tenants in a shared property doesn't pay you, you still have three others to cover your costs.
Tenants: The tenants, get a great quality home. They have the opportunity to live in a community of like minded individuals and have a landlord that is responsive and able to keep up with repairs and maintenance.
In case you're thinking the only people, that want to share properties are excitable (and messy) students, that's no longer the case Mr Miyagi…
Check out these emerging markets: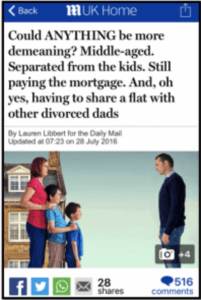 Short Term Accommodation
The rise of the sharing economy has created a huge opportunity for landlords. Sites like Air B'n'B now allow travellers to book accommodation in private properties as opposed to hotels, often for a lower cost (although not always).
What are the benefits of this for travellers?
Home away from home: no more having to eat out every night or live out of suitcases

Desirable areas; Maybe you don't want to be based right next to a main road or airport

Suitable for families; Easier and more convenient to entertain children in a home than a hotel room

Longer stays: With a more transient population and jobs moving frequently it's common for the work force to move and stay in another town for 3 months + at least Mon – Fri. It's preferable for all involved if they can stay in a home over a hotel that is impersonal and isolating.
What are the benefits for property owners?
No tenant stress: Travellers pay upfront, they do not have residency rights and will not get into arrears.

Increased income: A property previously earning you £800 per month as single let can charge £80 per night!

Flexibility: If you or your family want to use the property simply make it unavailable for bookings.
I'm going to caveat all of the above points for both strategies, with this..
There are of course, rules and regulations surrounding these, and in fact all strategies. As there should be! This is not the next get rich quick scheme, this is strategic and predictable to creating true wealth.
Our job as entrepreneurs is to find the hidden value in assets and spot the opportunities.
"Where there is uncertainty there is opportunity."