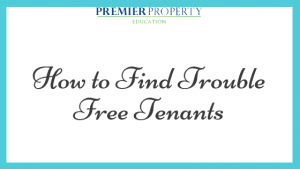 How to Find Trouble Free Tenants
Often times the most challenging piece of investing for the long term isn't finding the property, it's finding the tenants. Once you've found the perfect property, it's time to find the perfect tenants. There are a number of ways to go about this – and it's worth bearing in mind that taking the right approach now could save you a whole lot of stress later on.
To get you started, here are some tips to help you find the ideal tenants for your ideal investment property.
Using a letting agent
Letting agents have bad reputations but the reality is that they know how to find tenants! Whether or not they are all great at managing them is debatable but still! If you don't have the time to respond to calls and emails or arrange and conduct viewings appropriately and with due care and diligence, then hiring a letting agent to show potential tenants around your property is your best option.
When instructing a letting agent, be clear about the sort of tenant you want. This may depend on the type of property you're renting out and the location. For example, is it suitable for children and/or pets? Would smokers be acceptable to you?
If you're going to use an agent, verify exactly what their fees cover and ensure this is writing prior to engaging them. Will a full inventory be carried out and is this charged as extra? Are they affiliated with a redress scheme and the information commissioners office. Be sure you check out the reference checks that the agent carries out on your behalf and point out any issues that need to be looked into.
If you choose to source the tenants yourself then you need to make sure you get proper references and an inventory including photos and videos describing and listing the state and condition of the property and all the fixtures and fittings. This will then need to be signed by the tenant. A proper inventory will give you the reassurance that if damage occurs that's beyond normal wear and tear, you can retain some or all of the deposit to pay for it.
When carrying out checks, for peace of mind, ask for references from previous landlords to see if the tenant paid on time or if any damage was incurred during their occupation. You could also contact their HR department to confirm employment and/or get a copy of their passport to make sure they pass Right to Rent checks. Comprehensive references will ensure you don't get a rogue tenant who misses payments or causes problems. Also, be sure to stay on the right side of the law – issue a how-to rent form, be sure to check the right to rent status, ensure data is protected.
Ensure appropriate affordability
As a guide for your tenants, a rule of thumb is that their annual household income should be at least 30 times the monthly rent if they are to comfortably pay the rent each month. This should be from a stable and predictable source. If their contract is temporary when does it end, if they have a business, how long have they been in business and what income do their accounts show.
Stable tenants should have secure employment and an evidenced salary that easily covers rent and living expenses.
Overseas tenants
Tenants that haven't recently resided in the UK can be challenging as they may not have any recent history but you could check their employment status and if their company or a UK resident will act as a guarantor.