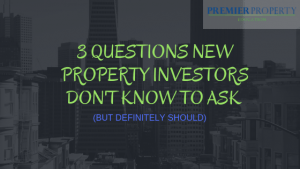 New property investors face a barrage of information and end up seemingly endless questions.
Many of them the usual foundation questions like, "Where should I invest?" and "What property investing strategy should I use?" When every decision is unfamiliar and new, the uncertainty and overwhelm for new investors builds daily.
But as critical as those fundamental questions are, they're obvious. There are a lot of less obvious questions that are often overlooked. Questions that many new investors fail to ask, but should. Here are three questions, that you should know the answer to with absolute certainty before pulling the trigger on any investment.
"How can the deal lose money?"
So, you think you've found a great deal. Maybe it is.
However, before you invest thousands of pounds in it, set aside your excitement for a few minutes and assume that the deal has risks.
The reality is every deal has risks, even if they're ultimately risks worth taking.
Regardless, it's important to know what those risks are and then to identify what protections you have in place or could put in place to mitigate them?
For example, one risk in any renovation deal is that the contractors will take your cash then disappear. This is a common risk and not one that should stop you moving forward however you can mitigate that risk. The question to ask yourself is, what precautions are you taking to prevent them from running off to the Caribbean with your money?
List out all the risks, and brainstorm ways you can minimise them.
"What contingency plans can I implement if my exit strategy fails?"
The next question when assessing your investment strategy is usually, what's your exit strategy?
Nearly as importantly and perhaps more importantly, is the less common question what happens if it fails?
For example, let's say you buy a property to refurbish for your friend to move into. You trust that she'll be a good tenant, because she's your friend, and you know her well. (Although renting to friends and family members comes with its own risks.)
What happens when your friend walks into the property upon completion and says, " I don't like the color scheme in here. Way too '90s. I'm not moving in."
If you had asked yourself "what happens if the exit strategy fails", you would have come up the following questions: Will the property cash flow well at market rent? Could you sell it as a flip if needed? Would make a good serviced accommodation rental?
Run the numbers on several contingency plans, and make sure that if your exit plan fails, you are not left high and dry.
"What's the vacancy rate in this neighborhood?"
Before investing a single penny in a neighborhood, get a strong sense of the vacancy rate and types of tenants there. Talk to local landlords, local estate agents and local property managers. Walk the streets. Look up the homes for rent on Rightmove and Zoopla.
Do you see any boarded up properties or other indications of long-term vacancy?
Beware of low-demand markets. And make sure you always include vacancy rate when calculating cash flow for a rental property.
Asking Questions Makes You a Better Investor
Don't assume you know all the answers. As a new investor, you don't know what you don't know, which means you may not be asking the right questions.
Whether you take a property investing course, partner with a more experienced investor, join a property investing networking club, or hire a coach, make sure you gain exposure to more experienced investors.